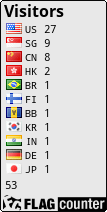 CATTERY SAN FERRY ANN


We are breeders of SIAMESE, FOREIGN WHITE and ORIENTAL SHORTHAIR CATS, especially red & tortie point siamese, foreign white, seychellois, oriental shorthair bicolour and calico. Our cattery is situated in Limburg, the Netherlands, between Aachen and Maastricht. The cats are registered with FIFe association Mundikat.
Siamese, Foreign Whites and Oriental Shorthair cats are very social cats and don't prefer to live alone. We have only a few litters in a year. We do this so we can give each kitten the maximum of attention, love and care they need to be happy. We direct our efforts on breeding top quality kittens and we concentrate on health and character as well as we do on type. Our kittens and cats are raised exclusively in a home environment.
New owners will find our kittens are wonderful companions whether they are for pet, breeding or show. Our kittens are very precious to us and our main concern is they go to the right, permanent, loving homes.
Thank you for visiting our website, and if you like our cats, please visit us again.
New litter of Iphigenia and Prince (2019)

Please visit our new website especially for our
Foreign white siamese cats and Oriental shorthair white cats
http://www.foreignwhite.eu